Top 3: Our Best Cheap Rap Beats
"Blunt Knives"
First of all, I have to mentionBlunt Knives. This is definitely one of the best cheap rap beats we have available. It has it all. A unique sound selection, hard drums and a tight mix.
"Have A Heart"
Secondly, I have to go with Have a Heart. This instrumental is an Eminem style beat with a lot of emotion behind it. In addition, it has hard hip hop drums and a pretty cool arrangement. 5 Dollar for the untagged mp3 lease is way too cheap!
"Go In"
Lastly. another rap beat with a very original sound. That's what "Go In" is all about. If you want to stand out as a rapper, this is what you need. Don't be like sheep. Be different! Surely, more cheap beats for sale like this one are coming soon!
Buy Cheap Beats prod. by a Platinum Producer
Omnibeats.com is probably the website where you get the most value for your money. What other mult-platinum music producer (check our credits) is offering beat leases as cheap as 5 dollars? Please tell me, because I can't think of anyone.
Beat quality and production experience are both great arguments to shop with Omnibeats. However, we have more. Variety for example. We have cheap trap beats, cheap rap beats, cheap hip hop beats & cheap pop beats as well! Furthermore, we have tracks available in club and rnb too.

Production Credits
We have produced rap, hip hop and trap beats for for rap superstars like Tech N9ne, Kid Ink, Juicy J and BoB. Our tracks knock. That's why you should buy cheap beats from us!

Cheap Beats: The Licensing information
We offer cheap mp3 leases, wav trackouts and unlimited leases. The licenses are the same as our normal priced beats. For all the exact information, see the table below. Simple right?
However, if you have any questions regarding your purchase you can contact us here. We have a great turnaround time and usually respond right away.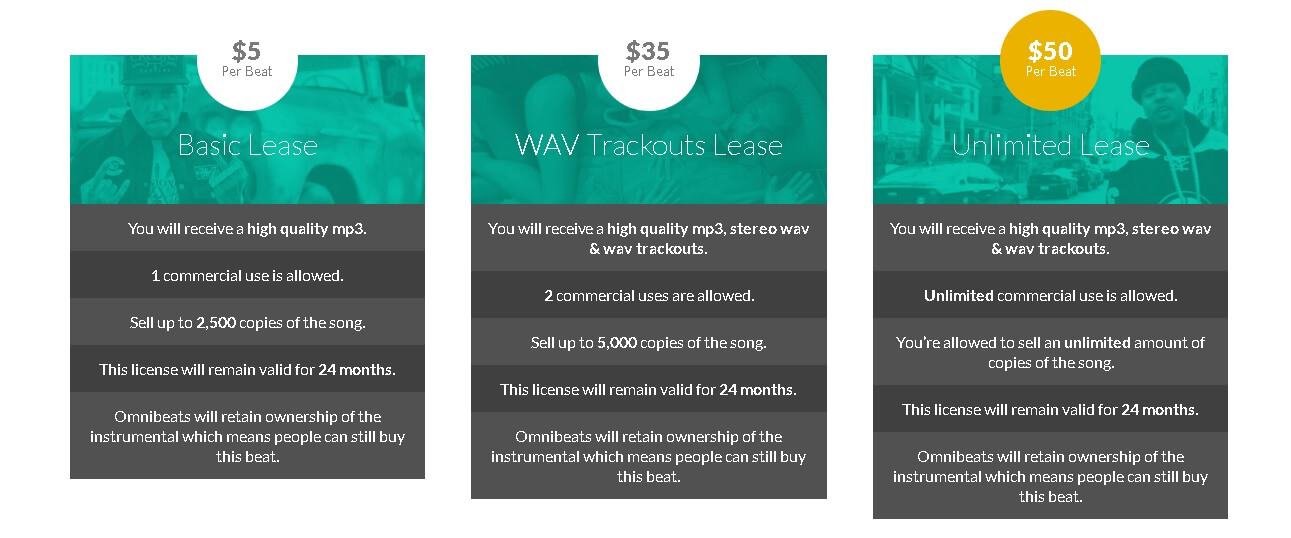 Cheap trap beats and other genres are coming soon…
Lastly, I want you to know that we will introduce even more genres soon. For now, we're mainly strong in the hip hop and rap genre. However, you can expect us to expand with trap, pop and rnb very soon. Concluding, especially cheap trap beats!