Rihanna type beat – Dollar Bills
Rihanna type beat – "Dollar Bills"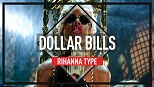 Time for something else than the usual rap and trap. "Dollar Bills" is an edgy Rihanna type beat that's more melodic than usual trap beats.
Im confident that "Dollar Bills" is one of the best Rihanna type beats that you can find online. It's not for nothing that it has already been streamed 80.000 times on Youtube.
You can hear it in the player below.
FAQ – Leasing infomation
Will you remove the TAG if I lease a beat?
Yes. Of course. After your purchase we will send the untagged beat(s) to your email address.
Can if use your type beats for free?
You can use tagged beats but only if you credit us exactly as follows: "music produced by https://omnibeats.com".
Can I get a discount?
Yes, we give discounts when you purchase multiple beats. Please contact us and we'll get you the best deal possible.
Leasing options: What's the difference?
Misc info – rihanna type beats
First of all, thank you for visiting Omnibeats.com . In this section you can find links to my social media platforms. Very useful if you wanna keep up with the latest (free) instrumental release right here on Omnibeats.
I have a Rihanna pop type beat in the works as well. That will be uploaded soon.
I'm working on a rihanna pop type beat. Ill post that up soon.
In addition, a drake rihanna type beat is in the works as well.
Futhermore, we post free beats every now and then. If you are following me, you def will not miss these fire free beats.
Omnibeats social media:
Twitter
Watch "Dollar Bills" on Youtube
Facebook
Instagram
Let's Make Hits!
-FF
---
Multi-Platinum producer Fred Fisher