NEW: Bruno Mars type beat x Ty Dolla Sign type beat
Bruno Mars x Ty Dolla Sign type beat
Need an instrumental with the potential to be a worldwide hit? Try "Step Out". This Bruno Mars type beat has got it all. A sexy progression, groovy bassline and an overall friendly vibe. Don't miss out, itll sell before you know it.
FAQ
Will you remove the TAG if I lease a beat?
Yes. Of course. After your purchase we will send the untagged beat(s) to your email address.
Can if use your type beats for free?
You can use tagged beats but only if you credit us exactly as follows: "music produced by https://omnibeats.com".
Leasing options: What's the difference?
---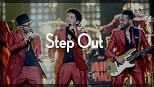 Multi-Platinum producer Omnibeats