3/27/2018 – Bruno Mars type beat – Hot Tub
NEW Bruno Mars type beat
"Hot Tub" is a new Bruno Mars type beat with a funky sound. Basically, the sound that Bruno has become known for in recent months. This is the type of sound you can score a hit with. Press play on this funky monster of an instrumental below.
Buy untagged
You can buy "Hot Tub" untagged in the player below.
More Bruno Mars type beats
---
Who Is Nipsey Hussle?
FAQ
[hrf_faqs category='type-beat-faq']
---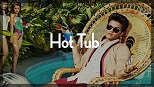 ---