NEW: "Like That" (Smooth Chris Brown type beat)
Sexy & Smooth Chris Brown type beat
"Like That" is a sexy Chris Brown type beat that could be heard on the radio all day. This r&b smash has a very smooth and commercial sound to it. This makes it sound like it can be a huge hit record. Don't miss out!
Buy untagged
You can buy "Like That" untagged in the player below.
Download the demo mp3 (tagged)
More Chris Brown type beats
---
FAQ
Will you remove the TAG if I lease a beat?
Yes. Of course. After your purchase we will send the untagged beat(s) to your email address.
Can if use your type beats for free?
You can use tagged beats but only if you credit us exactly as follows: "music produced by https://omnibeats.com".
Leasing options: What's the difference?
---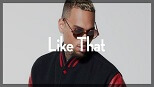 ---