Young Thug x Future type beat – 4 Play
New r&b/trap beat in the style of Future or Young Thug. This is the type of beat you can hear on the radio all day. Let's make hits!
Buy untagged
Buy this young thug x future type beat untagged in the player below.
More Future type beats
---
More Young Thug type beats
FAQ
[hrf_faqs category='type-beat-faq']
---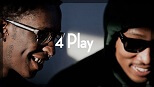 ---