19/10/2017 – Free Trap Beat – Free Young Thug type beat "Exotic"
Free Young Thug type beat
Exotic is a harp based Young Thug type beat. This track falls exactly in line with the sound that's hot today. The best part? You can download this type instrumental completely for free!
Buy untagged
You can buy "Throw It Back" untagged in the player below.
Download the demo mp3 (tagged)
You can download the demo version for free. If you decide to use this version for non-profit the only thing we ask is that you credit us exactly as follows "prod. by Omnibeats.com" .
Thank you and now Let's Make Hits!
More Free Trap Beats
---
FAQ
Will you remove the TAG if I lease a beat?
Yes. Of course. After your purchase we will send the untagged beat(s) to your email address.
Can if use your type beats for free?
You can use tagged beats but only if you credit us exactly as follows: "music produced by https://omnibeats.com".
Leasing options: What's the difference?
---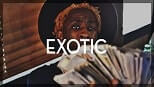 ---