Future instrumental type beat with hook
Type Beat with hook (Future style)
Hear this new Future type beat with hook. Straight fire:
Lease this Future type beat HERE
"Nowadays" is a dope Future style track with a chorus on it1. First of all, the hook's lyrics are fire. You can rap or sing about all these fake people you know and such. Basically, this is what you would call "instant inspiration". Normally, you don't hear that. At least not on most trap beats with hooks.
In addition, not only the hook is fire. The synth-work on this trap beat are quite unique and the arrangement moves along nicely as well as it switches the theme of the beat in between verses and chorus.
However, thank you for listening to this instrumental with hook. Let's talk soon!
Listen
Purchase
---
This section is dedicated to this Future instrumental with hook. We have many beats with hooks for sale in this style and more are coming. However, this particular track is quite unique. If you'd like to lease beats like this and/or have any type of question regarding this (or other) instrumental, feel free to reach out. Naturally, we will do our upmost best to help and assist you with the matter at hand. Our clients that listen to our instrumentals with hooks deserve nothing but the best!
📸
https://instagram.com/omnibeats
📺
https://youtube.com/omnibeats
🏠
https://omnibeats.com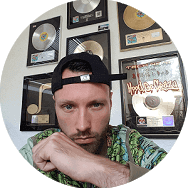 Multi platinum producer Omnibeats